You can enjoy fresh, delicious tasting Maryland hard blue crabs right in your home.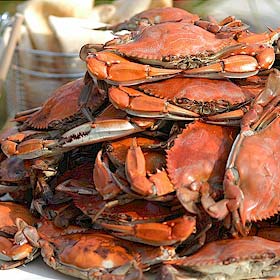 It is easy to get steamed or live blue crabs delivered direct to your door.
The finest crab that the great State of Maryland has to offer is available to you.
If you like to prepare your own culinary crab creations, then order them live and kicking.
If you would prefer that they already be spiced to perfection and cooked, then order your batch to be steamed first. Be amazed at how fast they get to your door.
Maryland Hard Blue Crabs
Order your preference by the 1/2 dozen, all the way up to a bushel at a time. Select the hard crab size too, from medium to jumbo, to colossal sized heavy meat blue crabs.
Having a group over for a special dinner, then why not enjoy the sweet meat from some colossal hard blue crabs. The picking and butter dipping is part of the fun.
Delicious! Can't wait to just dig in!
What have you been waiting on all this time – order today?
Enjoy!